Sometimes the years shift forward abruptly, like an earthquake: so much changes in the space of a second. This last Friday I was caught up short as I sat down at my desk and opened my computer.
Nestled in my inbox was an email from the son of my best friend, Myrna, who died from metastatic melanoma eight years ago. She was the only woman, apart from my Mom and my Nana, whom I always believed I could not do without. After she was gone, I discovered that to my surprise I could go on in her absence–though not without a deep and abiding sadness–because she had left me such a rich legacy of love and insight.

What would have been Myrna's seventy-second birthday passed just last week, and on this occasion her son decided to reach out to all of us who were part of his mother's family of friends. His email brought with it a wonderful treasure: four photos of his daughter, who so resembles her grandmother that it is like looking at one of Myrna's baby pictures from back in the late forties. And so–in some small way and if only for an instant–time is overthrown and my friend returns to me.
If Myrna were still alive we would spend hours on the phone now, comparing notes on her two year old granddaughter and my two year old grandson–how both are enjoying nursery school, who is about to work on toilet training, which one is saying "no!" the most loudly. We'd revel in this new generation of ours, the ones with the bright smiles and so much laughter in their eyes.

There's something magical about knowing that even when you've lost someone, they're never completely gone–that they are with you even more than in memories, because everyone leaves a physical footprint within his or her family. When I look at my grandson, I see my Nana's chin and smile, features I managed to pass along from my own face to my son's. Such resemblances are like mirrors into our pasts–particularly special at this time of year, when those we've lost are missed intensely around the holidays. To look into this little girl's face and see my old friend, captured there for all time, brought me immense joy.
I'm so grateful and happy that Myrna's son has a little one who must surely remind him of his Mom every day she looks up at him with that impish grin. As I sit at my Thanksgiving table this year, I will give thanks for all those special people who have moved through my life over time, especially those who are no longer with me, but whose presence never wanes.
Yours,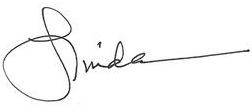 Tagged With:
family
,
friendships
,
gratitude
,
legacies
,
life
,
linda gray sexton
,
linda gray sexton author
,
love
,
Thanksgiving
,
writers life
,
writing