It's not Valentine's Day, but now, in the first week of July, I am moved to speak of love. All-encompassing love. Tender love. Love that exceeds any that has been experienced previously.
We are busy bees here in Maryland: washing windows, pulling weeds, moving furniture to make room for two big white tents and a caterer–all in preparation for my sister's wedding on July the 6th, which will be held here in our home. This is a singular event for us all and we are determined to make it very special indeed.
Joy has asked me to read one of our mother's poems, "Welcome Morning," as part of the service; and in the meanwhile, she and I have been having great fun choosing her traditional gown, designing invitations, selecting and arranging flowers, going over table settings–all this being part and parcel of a simple reception that has turned out to be more complicated than originally planned.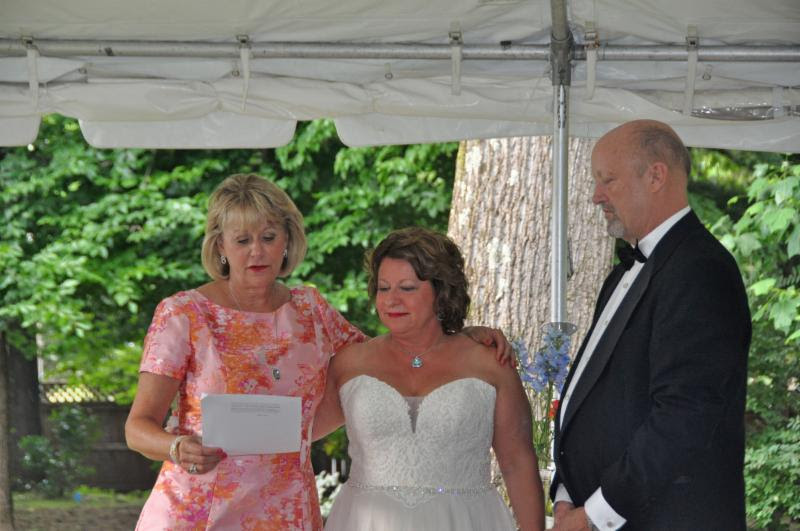 Those complications are not the only ones Joy faces. Her fiancée has three children who still live at home, and she has had to make room in her life for a young adult and twin teenagers, all three of whom, luckily, she finds delightful. Nevertheless, living arrangements have had to be modified and psychological space stretched.
To my relief and pleasure, she seems to have accommodated well to this shift in her lifestyle and mindset, even though her own daughter is now off on her own and Joy had thought her days of in-home parenting to be at an end. Despite this, her family has expanded in ways that have proved enjoyable rather than tense. Love for her new children binds her and her fiancé together; her daughter–such an integral part of our tribe–also welcomes these new siblings and a step-Dad. What a coup!
Even more interesting to observe–for me at least–is the relationship between the two of them. They are experiencing a flowering of the devoted excitement we generally associate with "young love," despite the fact that she is about to turn sixty-three and he is sixty-two. I see something new happening here. Their affection is steeped in both attraction to and appreciation of their characters and personality quirks, and their joyous and besotted devotion to one another is tempered by the wisdom only age can afford.
It all makes me see afresh the wonderful possibilities open to us, as we grow older: that we can find a different career or hobby, a fulfilling retirement–or even better, a true soul mate.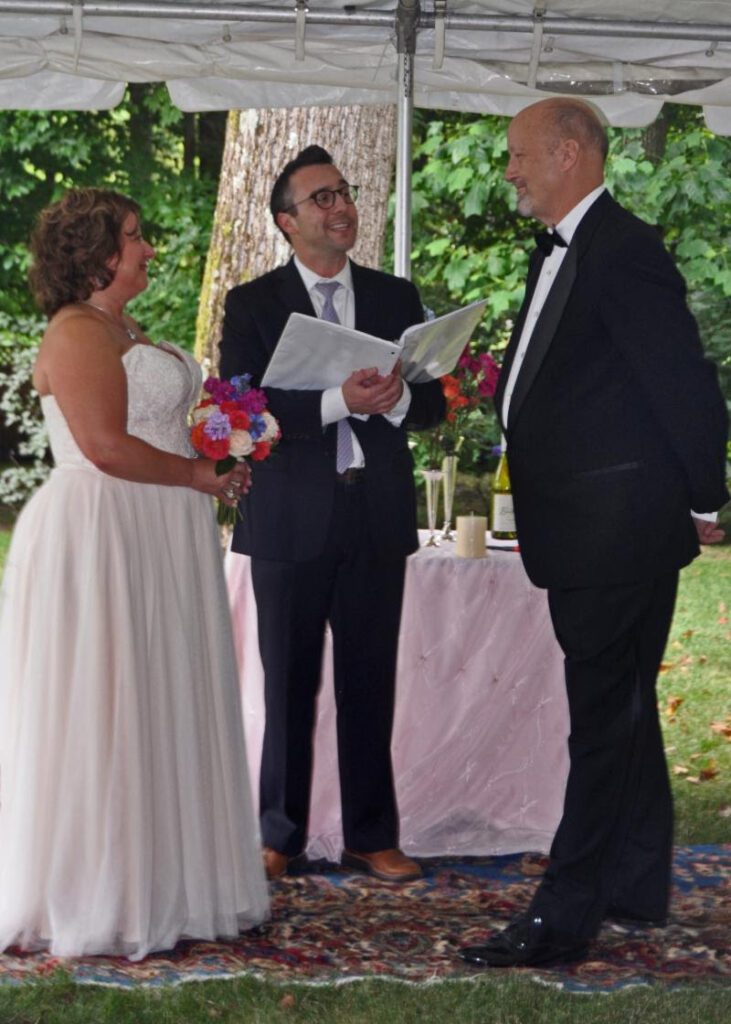 This fresh take on love reminds me of my Nana, who married for the third time in her mid-seventies. Her parents had interfered in her youthful first engagement by insisting that she marry the more prosperous man who became my grandfather. Her second marriage was to a neighbor, carved out of loneliness as she hit sixty, alone.
But her last union was one of heartfelt love, and she pitched herself into it headlong. She returned to the arms of her original sweetheart–a man she had never forgotten throughout all the intervening years. They picked up where they had left off, pursuing their passion without a moment of hesitation, as if fifty some odd years had never passed. Frolicking together despite their age, they gave credence to that silly expression "madly in love." All of us were hushed by the intensity of their gazes as they took their vows.
So too now with my sister. As she walks down the aisle we have created in my backyard, escorted by both her daughter and me, I will bless this union with all my heart. She journeys into a brand-new stage of life in her sixth decade, and that demands celebration. With preparations and love already in place, all that remains to be achieved is a break in Maryland's hot and humid summer weather!
Yours,
Linda