In the wee hours of Sunday morning, just as Daylight Savings Time kicked in, my delayed flight from Florida finally touched down in Baltimore, which is my home airport. I had been in Tampa for the previous four days, attending an enormous convention of writers, publishers, agents and representatives of writing programs. Each day there are over fifty panels on a wide variety of literary topics, or on the business of words; and there is also the enjoyment that comes from browsing the fair-like booths where thousands of different books are displayed, many of them by very unique independent presses.
This was the first year I had ever gone, despite having been a writer for four decades, and it was a totally overwhelming and yet gratifying experience. I was lucky enough to be asked to participate on two different panels, speaking to large audiences about my books and the topics they raise, as well as making a host of new friends among a community of superb authors. And then, too, I was able to make connections with those who may be able to lend me a hand as I navigate through the rush of the publishing world.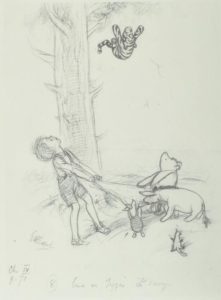 Despite the excitement of the trip, I came home exhausted. Although I had a editing client whose manuscript I was supposed to be finishing, I played hooky on Monday and snuggled up with an old favorite of mine, by A.A. Milne, published in 1926: The World of Pooh, a two volume series that includes Winnie-The-Pooh and The House at Pooh Corner.
If you've never read it (scandalous!) it is a "children's" book, (which Milne based upon his son's childhood in England with his stuffed animal companions), wherein the young Christopher Robin lives in an imaginary forest along with a tribe of marvelous characters. These include his favorite Pooh, (who is often referred to as "A Bear of Little Brain" and generally to be found with his head stuck in a Hunny Pot, when he is not composing simple but commonsense poems). There are Piglet, Owl, Tigger, Eeyore, Rabbit, Kanga and Roo, as well. Each has a distinctive voice and speaks in his own clever and humorous way. The pen and ink illustrations by E.H. Shepard capture Milne's fantasy world beautifully; I can't wait to read the books to my grandson when he is a bit older.
In the very last pages of the second book, Christopher Robin and Pooh have an important conversation as they take a walk. I reread it yesterday afternoon, lying there on the couch in my study not doing a lick of work. I say it's "important" because all of us adults should pay heed to its simple yet insightful message. Here it is: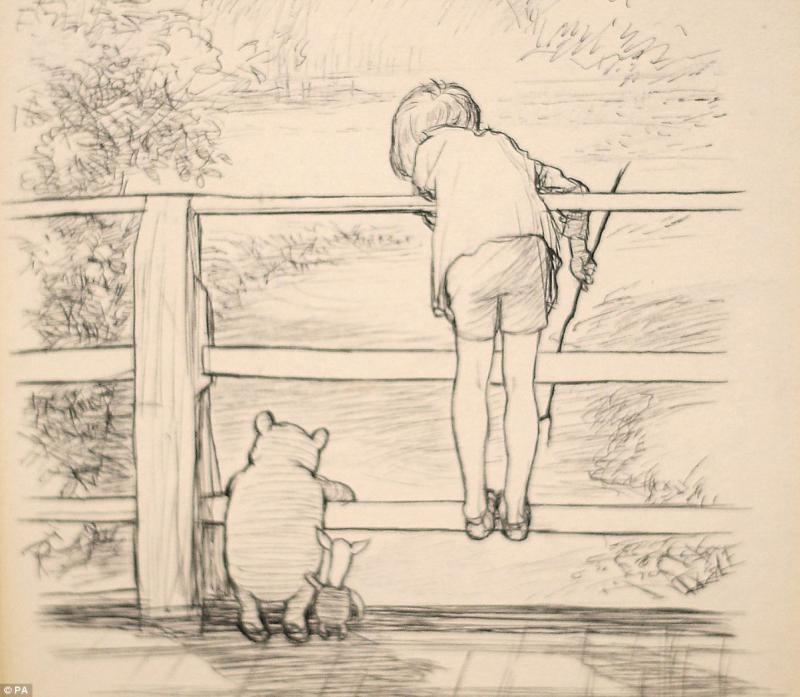 "Where are we going?" said Pooh, hurrying after him.
"Nowhere," said Christopher Robin.
So they began going there, and after they had walked a little way, Christopher Robin said: "What do you like doing best in the world, Pooh?"
"Well," said Pooh, "what I like best-" and then he had to stop and think. Because although Eating Honey was a very good thing to do, there was a moment just before you began to eat it which was better than when you were, but he didn't know what it was called. And then he thought that being with Christopher Robin was a very good thing to do, and having Piglet near was a very friendly thing to have; and so, when he had thought it all out he said, "What I like best in the whole world is Me and Piglet going to see You, and You saying, 'What about a little something?' and Me saying, 'Well, I shouldn't mind a little something, should you, Piglet,' and it being a hummy sort of day outside, and birds singing."
"I like that too," said Christopher Robin, "but what I like doing best is Nothing."
"How do you do Nothing?" asked Pooh, after he had wondered for a long time.
"Well, it's when people call out at you just as you're going off to do it, What are you going to do, Christopher Robin, and you say, Oh nothing, and you go and do it."
"Oh, I see," said Pooh.
"This is a nothing sort of thing that we're doing now."
"Oh, I see," said Pooh.
"It means just going along, listening to all the things you can't hear, and not bothering."
"Oh!" said Pooh.
Yesterday, after lunchtime, I discovered the very first daffodil had stretched out its strong green neck up from the dirt in the garden bed beside my driveway as I had lounged inside whiling away the hours. Today, when I took a break from editing and went out to get the mail, two yellow faces were turned skyward, drinking in the sunshine. So the world goes when you are doing Nothing. Thank you, Mother Nature and Mr. Milne.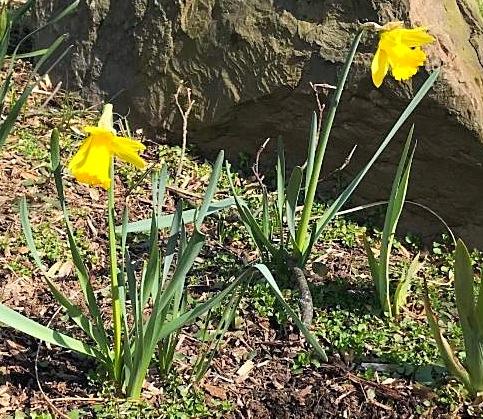 Yours,