Maya Angelou said it best: "When you get, give." In the spirit of her sentiment I am running a contest to gift to you any one of my books, your choice.
Gratitude for my readers was sparked not only from the recent holiday that embodies the emotion, but from my latest writing adventure as well. There, I immersed myself completely in the magic of words, and left inspired.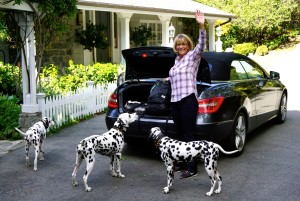 A little house in the woods, shaded by oaks. A little desk tucked into a corner. No phone. No television. No e-mail. No distractions from dogs who make a ruckus every time UPS rings the doorbell.
Two Fridays ago, I found all this, and more, in a four-day writer's "residency" at Hunsacker Canyon, where I had a one-on-one tutorial for my novel with Joyce Maynard, a writer whose work I very much respect.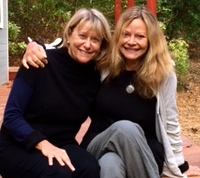 In addition to several memoirs, she is the author of eight novels, including Labor Day, which was made into a recent movie with Kate Winslet and Josh Brolin. Her expert eyes had read my three hundred and fifty pages well before I arrived.
Having taken only my manuscript, my laptop, a few clothes and some provisions, I was ready to do some serious writing. And listening.
Our first conference came as soon as I had unpacked and stowed my groceries in the mini-fridge. To my consternation, Joyce had bad news: she thought I should trash the first fifty pages, and cut out the voices of three of the four main characters.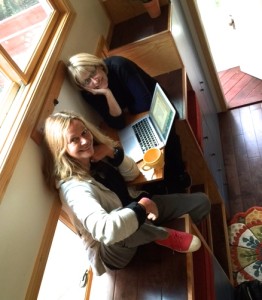 All this would result in the loss of an enormous amount of the work that had consumed me for the last two years. But because I trusted her opinion, I worked straight through each day, stopping only for a half hour at lunch, not shutting the lid on my laptop till five.
As I worked, there were several questions I did not ask myself: why was I subjecting myself to such intense scrutiny and criticism; why had I made such elementary mistakes to begin with; and why had I come without the comfort of at least one of my dogs.
I knew the answers: it is in the nature of a writer's life to work alone, uncertain, and then sometimes to begin all over again; mistakes are never elementary, only inevitable; and my dog wouldn't have been able to climb the upright ladder to the small sleeping loft, or even to fit curled at my feet beneath the tiny desk. No, I was on my own for this particular journey, though there were occasional kisses from Joyce's son's Boston Terrier.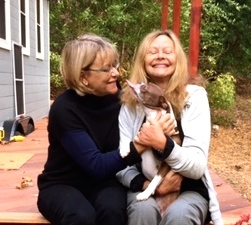 And I also knew that although the particulars of my life were different from those of other people, if anyone wants to grow and extend her horizons, she must take on risks that feel extraordinary.
Each day, I brought Joyce a handful of new pages. By the time I left the little house in the woods, I was hearing the voice of my one main character, strong and steady in my mind. Her storyline now exploded on page five rather than page fifty. Because of the rewrites, I had only eleven new pages in my hand. Over forty were in the garbage can. Where many more were destined to wind up. Nevertheless, I was pleased with the work I had done.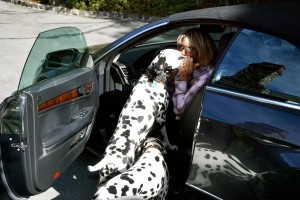 Now, the weekend after Thanksgiving, I find myself filled with the kind of gratitude to which the past holiday speaks. I have had the opportunity to begin again–not in a new country, as did the Pilgrims in 1620, but in an important way to me as a writer in 2015.
Thanksgiving itself was so quiet this year that I had plenty of time to contemplate how fortunate I am to be able to live the dream to which I awoke when I was eleven years old. To spend my working hours creating sentences on a blank page. Being busy and inspired simultaneously is a gift.
Because most of our family was on the East Coast, Brad and my son and I made our way last Thursday to a favorite restaurant, and had a dinner that was long on conversation about my experience and short on scrubbing pots.
Now, as we speed around the corner into December and all its attendant "Ooh Rah," Brad and I will hang wreaths, string lights and buy a Christmas tree. We will also welcome family and guests who are special to us into our home. In spite of all this activity, I hope to make another leap forward with the novel, and to keep front and center the gratitude and peace I found at the little house in Hunsaker Canyon. That thankfulness extends also to you, who reads whatever I come up with next. An author cannot be an author without her readers.
To acknowledge your importance to me, I am hosting a year-long giveaway for signed paperbacks of Bespotted. If you would prefer a different one of my books, I'd be happy to provide it, and will raid the boxes stowed in my attic for whichever one you choose.
The winner each month will be drawn at random. Entering is as simple as filling out this brief contact form. Please be sure to enter the word "Giveaway" in the subject line.
Perhaps you will also browse around my site while you are here, and let me know what you think of it. It's recently redesigned and modernized, and is also mobile friendly. I always answer my mail. Talking with you and sending you one of my books will be a great way to start off the holiday season.
Yours,
Linda