I have been away from home for two weeks, making a personal pilgrimage abroad, to Israel, for the wedding of my younger son. Our entire trip was exceptional, though I was more than glad to come home, put my feet up and pull my dogs onto my lap in a blanket of black and white. Brad and I were certainly weary of body, but we were refreshed in mind and heart.
In a beautiful location in Tel Aviv, on a hot and humid Sunday that was perfumed by rafts of white roses, a very special wedding ceremony took place, complete with the rituals that spring from my new daughter-in-law's Iraqi Jewish heritage. While I had encountered a few of these more orthodox customs before as a Reform Jewish woman in the United States–albeit one who had converted from Episcopal Christianity at the time of my marriage in 1979–much of it was a revelation.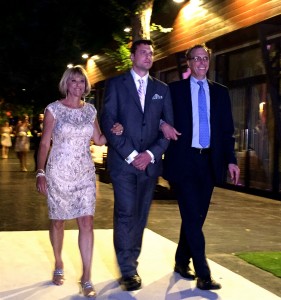 At the rehearsal dinner, with nearly 175 friends and family in attendance despite the distance from our homes in the U.S., there was not only Middle Eastern food that proved savory, but also a belly dancer who demanded that every one of us shake our tummies along with hers. The Hora was not to be denied, and the evening's revelries also included a unique type of henna party in the Iraqi tradition, expertly crafted by my son's new mother-in-law. Protestant notions of a traditional rehearsal dinner, dominated by a banquet table with place cards, were set firmly to rest. I did also find myself nominated to give an unprepared, spontaneous speech in which I talked about how lucky our family is to get along and love one another–despite divorce, depression and general spousal and sibling politics. Some of my audience was moved enough by my palpable emotion to grow teary-eyed.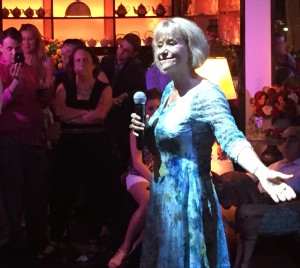 The wedding day itself brought the solemn reading and signing of the Ketubah (the marriage contract), which required that two witnesses swear in Hebrew that the bride and groom understood what they were entering into and had indeed penned their names on the document, thus creating a legally binding document that, in times past, only a "get" from the rabbinic divorce court could dissolve. As the document was passed hand-to-hand, I thought to myself that while I had once signed a prenuptial agreement, I had never signed a Ketubah.
Following this roughly forty-five minute process, came the very intricate and lengthy Sephardic Jewish marriage ceremony under the chuppah. The chuppah, a white silk canopy that stretches high above the heads of the new couple and the rabbi, as well as all parents and siblings, symbolizes the roof of the new home the bride and groom will create.
The folds of the bride's veil were lifted several times–at least once, apparently, to comply with the tradition handed down from the Biblical era of Rachel and Leah, when it became necessary to identify the bride hidden beneath the cloth as a way of ensuring against future surprises.
As dictated by a more orthodox Jewish tradition than the reformed one I had taken on as my own, plain gold wedding bands were first inspected by the best man to ascertain that they were of value worthy to be the basis of such important promises as were being made, and then placed on the index fingers of bride and groom. Two glasses of wine were sipped. At one point a tallit, or prayer shawl, was held over the heads of my son and daughter-in-law, for reasons I still do not understand, but this part of the ceremony seemed especially sacred to me, nonetheless.
So much was brand new. I was ignorant and yet curious, and I realized that for my acceptance of everything before me to be joyous, an open heart and mind were required. While I still may not have all the rituals listed here in their proper order, or even with the correct historical explanations, I do believe I well understand the gravity and the sanctity they embody. For me, God was certainly present with us during those hours when my son and daughter-in-law joined themselves in marriage.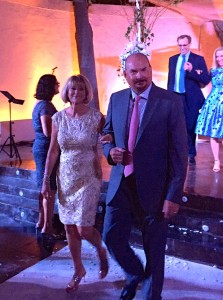 There were, as well, more recognizable rites of passage, those that are generally included in every traditional American ceremony of any religious persuasion: the bride wore white and did don something old, something new, something borrowed and something blue. My son stamped on the ceremonial glass wrapped in a napkin and it shattered with a satisfying crunch. The new couple had their first dance to kick off the reception, followed by her dance with her father, and then my son's with me.
Do I need to tell you that the dance he and I shared was secretly my favorite part of the evening? As we joined hands in front of the band, they began to play "Here Comes The Sun" by the Beatles. My son knew it was my favorite song from my high school years in the early 70′s. Its lyrics always make me think of the fresh green growth of spring: "Little darling, it's been a long, cold, lonely winter. Here comes the sun, feels like years since it's been here." These words mean to me that there is always a time to start fresh, with a new day and a new season, to move out of the darkness and into the light, to put troubles behind you and open yourself once again to life. The sun sustains–just as love does.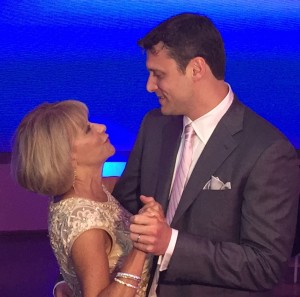 Love also shone on the faces of the extended family created by our guests, all friends from different branches of our past and present. There were those who had seen my son grow from a baby to a man, and there were those of his generation who had matured with him.
I looked over at the group, dancing with abandon and pleasure: both of my son's godparents; some of my college friends and roommates; my sister and my niece; a close friend I had known since our children's common classroom in kindergarten, and her new partner; others from later decades of my life. The willingness of each and every one of them to make the trek to this foreign land attested to their dedication not only to our friendship, but to their love for my son as well. Even the photographs that highlight this newsletter were taken by a special friend from my years at Harvard, Tor Shwayder, (happily included here until those from the professional photographer are available). My weekend would not have been complete without people such as him. Probably all of them grew sentimental enough to let a tear escape when my ex-husband and I, arm in arm, walked our son down the aisle and embraced him as he moved forward into his new life.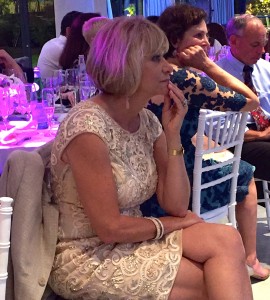 The sun, a new union, new lives, fresh family–all of it beautiful, emotional and moving. I could not have asked for more. Except that there was more: all of the incredible country that is Israel.
Onward then, to Jerusalem, Masada, Caesaria, Haifa, and spots around the Sea of Galilee: Roman ruins and palaces; Jewish strongholds; fortresses built by the Crusaders; the Lebanon border and that of the Syrian in the Golan Heights; the places where Christ fed the multitudes with a few loaves of bread and even fewer fishes, where he walked on water, as well as the Jordan River, where he was baptized by John. Never heard of these places or people? Want to find out more?
I love writing about it all, the marvel and the miracle of this home and this land that is holy to such a rich diversity and variety of people tucked in against one another, knee to elbow: Christians, Jews, Muslims, Arabs, Armenians. Keep your eye out for my next newsletter on September 2nd, and enjoy. As the Jews of every country say: L'chaim–to life!
Yours,
Linda