Early spring is here in Northern California. In my last newsletter two weeks ago, the daffodils were nodding their cheery yellow faces at the wind, but now they have gone past and are only little wrinkled heads on the top of long green stalks. However, my neighbor's magnolia trees hold out boughs on which perch hundreds of magenta and white cup-like blossoms. On the back deck of our house, my roses are putting out shiny new foliage–not blooming with flowers yet, but on their way, reaching a different height every day.
As I sit out on the deck, I think how much Bespotted has truly left my immediate world and vision. It was a wonderful book to write, a wonderful book to publish–a wonderful experience to have overall, as so many people wrote to me with enthusiasm. Now I am on to a new adventure, with a novel tentatively entitled Sunday's Magician.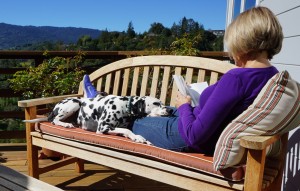 It was these weekly newsletters that bridged the gap between the old and the new in my writing world, when I had finished with one book and was not yet ready to begin another. I found I could write to my readers in an everyday style, little essays about what I was feeling, what my dogs were doing, and how life was chugging along in general. Happiness came my way with your responses, which I love and continue to receive, and I thank you for walking alongside me, regardless of what I choose to focus upon. I enjoy creating the newsletters, and don't have anxiety about facing the first blank page–the way I usually do as I begin to create something new, for either a novel or a memoir. A newsletter seems easy and fun in comparison!
Writing to you this way, as if we were friends sending letters back and forth about our lives, has kept me from becoming stagnant as I waited, caught between books. Sometimes a writer can get trapped, unsure of what to write about, and then how to move onward. I believe it is the unconscious that leads us to what comes next in our lives, especially for creative people. Amazingly fertile, the unconscious will always offer up its bounty if we are patient–just as do the roses on my deck.
Above is a photo of my sweetheart Cody, basking among the pots of what will shortly grow into a tall flurry of fragrant apricot and white petals. It's one of his favorite places to lie, soaking up the sun. And, as you can see, I like to bask with him, preferably with book in hand.
Brad and I are very proud of Cody, who had as wonderful a 2014 as I did. In the new statistics released in "Top Spots Obedience," he ranked both #8 overall nationally and #4 within his specific class of "Novice." He won both his "Beginning Novice" and his "Novice" titles in three straight "legs," (all obedience titles have three "legs" but a dog can try for a long time without earning even one), and with scores in the mid-190′s (there are only 200 possible points). These are true achievements.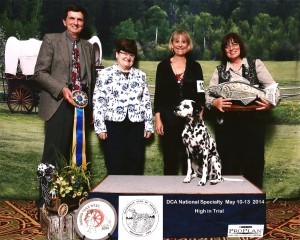 He and I trained very hard throughout the year, and were rewarded when he took the blue ribbon in every class he entered, and when he earned the much-coveted High in Obedience Trial award at the Dalmatian Club of America's National Specialty. (For all wins, he gets a "dog show milkshake" and I get to take the trophy home and display it.) As he embarks on his 2015 performance career, he is headed toward the "Open" division, which involves jumping and retrieving, both of which he adores. His black ears flip up in anticipation and his tail wags furiously whenever I ask him: "want to work?"
So, both Cody and I are basking amidst the possibilities of a new spring, and enjoying the budding pots of roses. For those of you buried under six feet of snow in the Northeast, I hope you will enjoy this image of us, as you eagerly cheer on the waning of winter. Soon the days will lengthen and the wind will be warm against your face. Remember that Day Light Saving Time is only five days away. Take heart!
Yours,
Linda